People and Workplace
Diversity & Inclusion
At Uniphar, our people are at the core of what we do. We benefit from the increasingly global nature of our business which brings together different ideas, experiences and capabilities from across the globe. We aim to create a work environment in which our people can reach their full potential regardless of gender, age, disability, ethnicity, or sexual orientation.
Uniphar are committed to gender diversity and equal pay and have strong female leadership across the Group. Two out of eleven of our Board members are female which will represent 20% of the Board on retirement of Padraic Staunton from the Board in May this year. The Board remain committed to keeping diversity and, in particular, gender diversity as a key consideration in succession planning.
Uniphar is also proud of the strong female representation across senior management and the entire workforce. As at 31 December 2020 women accounted for 30% of senior management and 62% of total employees, demonstrating a high level of diversity across the group.
| | | |
| --- | --- | --- |
|   |  Male % |  Female % |
| Directors |  82% | 18% |
| Senior Management |  70% | 30% |
| All Employees |  38% | 62% |
Health & Safety
At Uniphar, the wellbeing and health and safety of our staff is paramount. With large operational facilities in various locations it is essential we adhere to the highest standards of health and safety throughout the organisation, ensuring best practice is adhered to at all times.
Uniphar provides training courses on a regular basis including training on Good Distribution Practices (GDP), manual handling and first aid. We monitor and investigate all safety concerns and analyse this data in order to continuously improve.
The number of reported health & safety incidents saw a decrease of 15% from 2019 to 2020 with motor vehicle incidents accounting for 48% of all recorded incidents across the Group in 2020.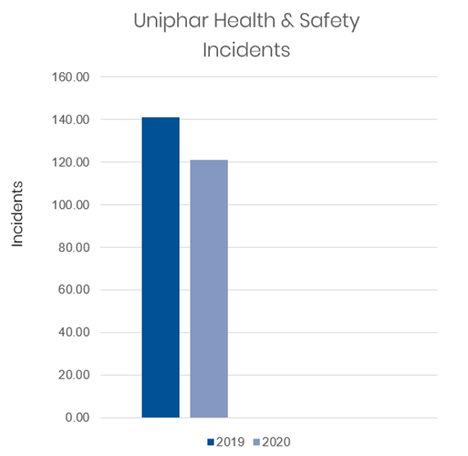 Wellbeing
Due to the ongoing Covid-19 pandemic, 2020 saw some of the greatest mental health challenges for generations. The "new normal" brought isolation, anxiety, loneliness and challenges with juggling home and work life for so many of our staff. It was imperative that we focused our efforts on keeping our staff healthy and mentally well during these challenging times.
Across the Group our HR teams implemented initiatives centred around connectivity and ensuring that people felt connected while keeping apart.
During the year the Group ran a variety of virtual wellness initiatives and events, including weekly good news round ups, daily HR check-in calls, zoom quizzes, virtual choirs, online challenges, shared lockdown diaries, photo competitions, online yoga and mindfullness sessions.
We made annual flu vaccinations available to employees free of charge and focused on health issues celebrating Breast Cancer Awareness Day and raising mental health and suicide prevention awareness.
For World Mental Health Day 2020 we held a company wide webinar providing information to our employees on how to manage "The New Normal" environment, as well as the important role of diet, lifestyle and sleep.
Training and Development
Uniphar teams demonstrated great positivity and resilience in the face of adversity during 2020, and we recognise how essential our people are in supporting the sustainable development of our business.
Uniphar are committed to supporting and investing in the professional development of our employees. The Group provides a range of career development opportunities which enable our employees to reach their full potential and grow within our business. We also continue to support our employees through further education and professional exams.