Uniphar's Charity Partners
2021 marked our second annual Relay for Hope event aimed at raising much needed funds for global cancer charities. At the outset of this year's event our goal was to clock up 300,000 activity minutes in August and September to raise €300k for our four chosen cancer charities. In order to cater for the diverse interests of all of our participants we moved away from a kilometre target to minutes of activity so everyone could take part by doing something they enjoyed. Activities undertaken included yoga, running, playing music, walking, knitting and baking. We are incredibly proud that together we exceeded both our minutes and financial targets.
This year our initiative also saw participants pin a Baton of Hope with names of loved ones who would benefit from the charities we were raising money for, to our Walls of Hope located in each of our global locations. A very moving and motivational initiative to remind us that the money we collectively raised really does change lives.
During the year the Group was also the main sponsor of The West End Tour in aid of the Mayo-Roscommon Hospice. Collectively we succeeded in raising a phenomenal €350,000 for our charity partners across these two events, which brings our total charitable contributions over the past two years to in excess of €600,000.

Relay for Hope Charity Partners

Active Community Support
Supporting our communities is at the core of what we do. Across each of our three divisions, Uniphar provides vital medicines, the highest quality medical devices and access to life saving drugs both nationally and across the globe.
During 2021, our teams continued to support our customers and our communities through the pandemic ensuring pharmacies and hospitals were supplied with the medicines and essential equipment they needed for their patients as well as mobilising teams for our pharma clients and sourcing and supplying unlicensed medicines to global markets.
Uniphar also supports a variety of local community initiatives across each of our businesses and locations.

During 2021, the Group were delighted to announce its sponsorship of the Irish women's Hockey Under-21 and Development programme, known as the Junior Green Army. The sponsorship will extend into 2022, taking in a Six Nations tournament at home in Ireland.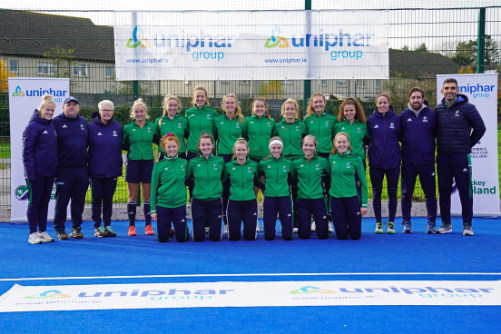 Customer Privacy & GDPR
We are committed to protecting the personal data that we process as part of our service provision. We ensure that customers can trust us to keep their personal data safe and that they have a clear understanding of how and why the data is used. Uniphar has a robust GDPR framework in place, to ensure that we are operating consistently across the organisation and in accordance with applicable laws.
The Group applies the following data protection principles:
Governance - We have appointed designated Data Protection Officers within each division. Their role is to monitor, advise and inform senior management regularly regarding compliance
Transparency - We are open and honest about how and what data we process. We only use personal information for specified fair and lawful purposes
Data Minimisation - We only collect necessary and relevant personal information
Accountability - We continually monitor and assess regulatory compliance. We provide training to all personnel
Retention - We do not retain personal information for longer than is necessary
Accuracy - We keep personal information accurate, complete, and up to date
Access Rights - We respect individuals' rights and choices
Security - We use appropriate security safeguards to protect personal data
International Transfer - We ensure protection for international transfers of personal information
Privacy by Design - We implement appropriate measures to ensure the principles of privacy by design and default are embedded into our processes and systems
Risk Assessments - We evaluate new business processes to ensure that they do not present any risk to data subjects
The Group has a Privacy Policy which is available here and a Data Protection Policy which is available to the workforce.
Customer Welfare
The needs of our customers, the pharmacies, hospitals, manufacturers and patients we serve were paramount during 2021. Our can-do attitude coupled with our commitment to the highest standards of product quality and patient safety ensured this important item remained a priority throughout the year. Further details of our commitment to quality and ensuring patient safety are set out in our Governance, Quality and Compliance page.