2021 was another significant year for Sustainability at Uniphar. Our Sustainability Council,  established in 2020, saw progress across all five of our Sustainability pillars with a continued focus on the Sustainable Development Goals identified by the Group last year.
As a healthcare services provider, our business is rooted in serving the community, in looking after people, in health & safety, wellness, regulatory compliance and innovation. The Covid-19 crisis has highlighted the integral part our business plays in the community in ensuring essential medicines reach patients, whether that is through traditional pharmacy channels, managed access programmes or aid & development programmes, coupled with ensuring that hospitals are supplied with essential equipment and materials.
As we continue to grow as an organisation, the strategic importance of being conscious not only of our markets and our customers but of our environment and communities is more important than ever.
Our Group-wide Sustainability Policy puts the principles of Integrity, Inclusivity, Legacy, Stewardship and Transparency, at the heart of what we do with a commitment in all aspects of our business to manage and continuously improve our environmental and social responsibilities effectively, through all our collective actions.
Sustainability Engagement
Our Sustainability framework is centred on our five sustainability pillars and we understand that in order to meaningfully progress our sustainability agenda we must drive  improvement across all pillars. The importance of excellence across all pillars was highlighted as we embarked on engagement with sustainability rating agencies during 2021. We are delighted to have achieved an outstanding score of 10.9 from Sustainalytics, ranking us in the 1st percentile (out of 560) of global healthcare companies and the 3rd percentile (out of 13,609) of all companies rated by Sustainalytics globally. Our MSCI rating has also recently increased from "A" to "A A". We believe these scores are testament to our focus across all of our sustainability pillars and demonstrate that sustainability has always be at the heart of how we operate our business. We recognise that the area of Sustainability is fast moving and requires continuous monitoring, improvement and innovation and we look forward to improving all of our sustainability ratings and scores in the near term.

Our Sustainability Pillars
Uniphar have identified five strategic pillars that define our approach to sustainability.
The following are those areas deemed most critical for Uniphar and those where we are currently measuring KPIs or intend to do so in the future: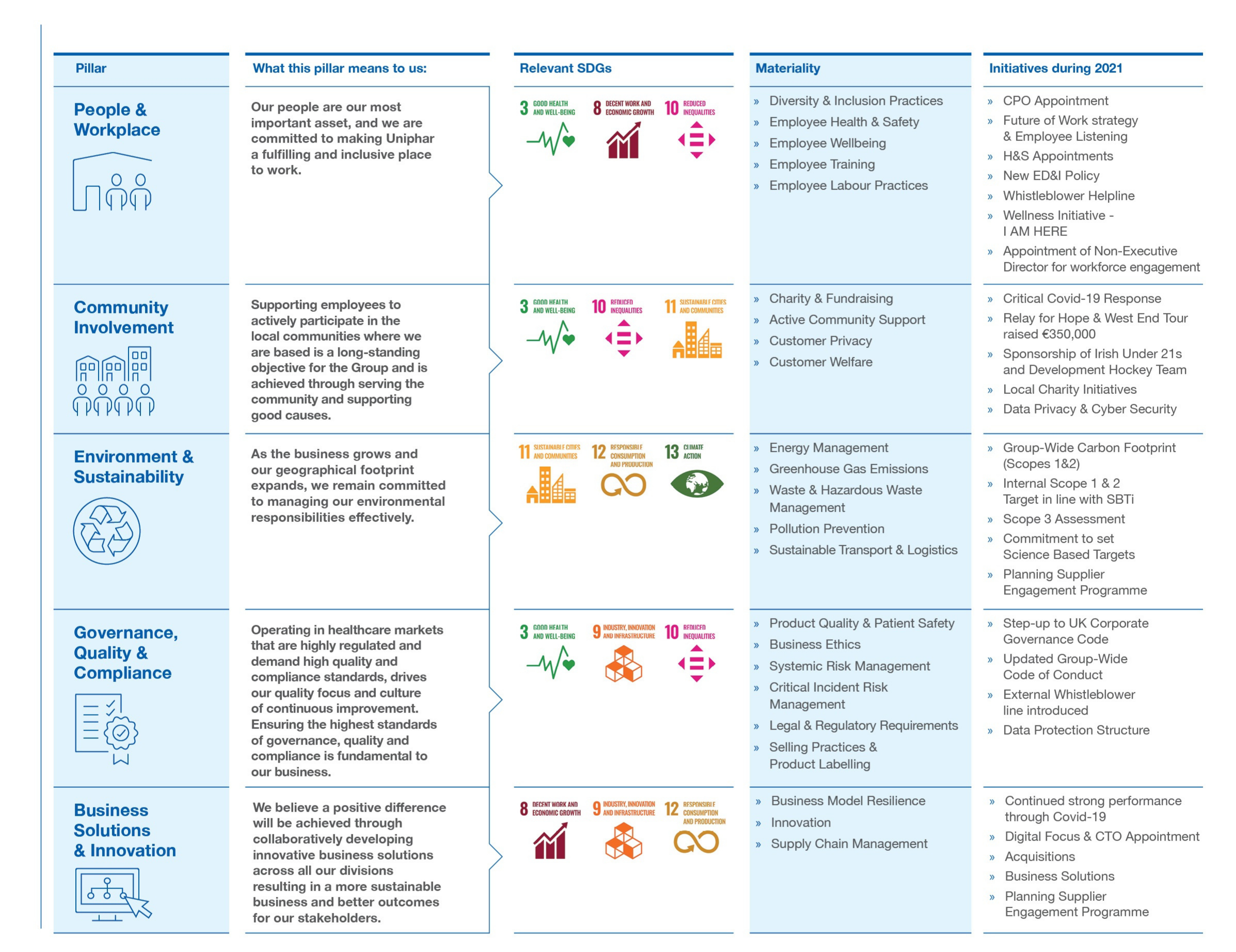 Sustainable Development Goals
Uniphar fully endorses the UN Sustainable Development Goals ("SDG") and we consider the following goals to be the ones where we can make the most significant contribution:
Sustainability Framework
The Sustainability Council was set up in 2020 to drive the sustainability agenda across the Group. It has representatives from senior leadership across all our business units and key functional areas. The Council reports to the Executive who report in turn to the Board. The Chair of the Council is Aisling McCarthy, General Counsel & Company Secretary of the Group. The responsibility of the Council is to define and oversee the implementation of the sustainability policy and strategy of the Group. Key to this is setting targets at a Group and individual business unit level and engaging internal and external stakeholders with a view to managing, monitoring and reporting on the delivery against those targets to the Executive, and our wider stakeholders. The Council also oversees all sustainability reporting, and will oversee the appropriate resourcing of sustainability initiatives to ensure their successful delivery.