Environment & Sustainability
Energy Management
At Uniphar, we understand that our activities can have a lasting impact and we believe in protecting our environment for the benefit of future generations.
2020 saw Uniphar increase our focus on tracking and reducing our business's impact on the environment. We engaged external consultants who provided advice and guidance on how we can take further steps towards achieving our sustainable development goals (SDGs) of Responsible Consumption and Climate Action.
As part of our sustainability agenda, we performed a Group-wide carbon foot-printing exercise and tracked Scope 1 and Scope 2 carbon emissions across the Group for 2018 and 2019 and in early 2021, this exercise was expanded to include 2020 emissions for the Group (excluding entities acquired during 2020).
| | | | |
| --- | --- | --- | --- |
| Group Intensity Measure | 2018 | 2019 | 2020 |
| tCO2e/Million € Revenue | 4.74 | 4.09 | 2.97 |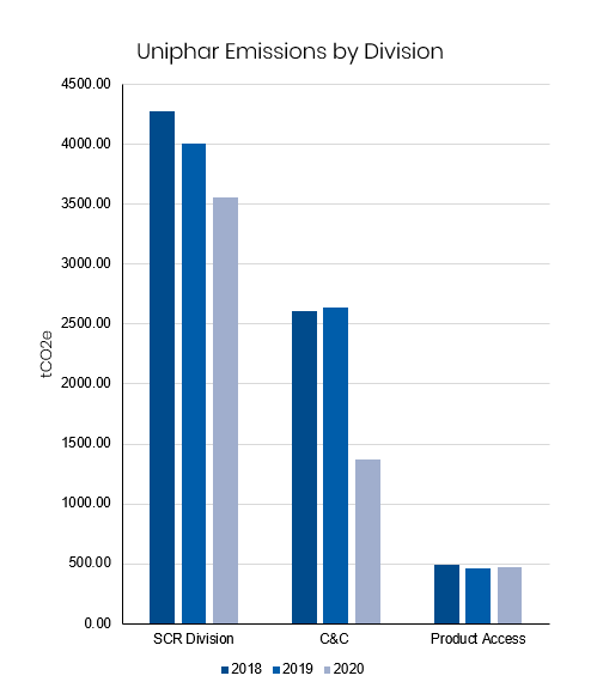 We are conscious that a significant portion of our carbon footprint arises through outsourced activities such as logistics and through our supply chain and we are committed to working with our supply chain partners in this area.
CDP & Carbon Emissions Reporting
The Carbon Disclosure Project (CDP) provides a globally recognised disclosure system that enables companies to assess, disclose and manage their environmental impacts. In 2020 Uniphar submitted its first response to CDP disclosing emissions and other environmental data in respect of our business on the island of Ireland.
We gathered Scope 1 and Scope 2 greenhouse gas emissions data from our different businesses and it is our aim to expand the geographies covered by the submission in 2021 to include all Group businesses (excluding new acquisitions).

Waste
Across all our sites we are continuously exploring ways to reduce, reuse and recycle. We have been a member of Repak since 1999 and we make considerable efforts across the business to reduce plastic waste. Our distribution facilities see significant percentages of their waste recycled and diverted from landfill with landfill diversion rates varying between 75% and 95% of waste generated across our Irish distribution facilities. We are also working with our waste providers to obtain data in relation to the treatment of our waste across the Group.
Relevant parts of our business are compliant with the Waste Electrical and Electronic Equipment Directive (WEEE).  
ESG Linked Facility
During 2020 the Group refinanced its banking facilities and the new facility now incorporates a mechanism for interest rate adjustments based on the achievement of sustainability targets with any increase in the rate resulting in the funds from the rate increase being applied to sustainability initiatives.
Looking to the future
We have appointed environmental champions to our Sustainability Council to progress the Group's sustainability agenda for 2021 and beyond. Our aim is to improve the measurement and reporting processes on our consumption and set long-term targets that are aimed at protecting the environment.
2020 marked the first step in our climate reporting journey and we look forward to progressing our sustainability agenda and reducing our environmental impact.