CROSS Charity Cycle 2017 Press Release
18 Apr 2017

Uniphar Group partner with CROSS Charity Cycle for the second year running
The Uniphar CROSS Atlantic Cycle, a charity cycle which raises funds for essential equipment used by the cancer research teams at Trinity College Dublin (TCD) and St James Hospital, was officially launched today at TCD. CROSS is an acronym for Cancer Research of the Oesophagus and Stomach at St James's Hospital and the charity is a focal point for cancer research which is led by one of the college's principal cancer researchers, Professor John Reynolds.
The annual charity cycle will take place from Sunday September 3rd 2017 to Thursday September 7th 2017 and will be led by former Ireland International and Lions rugby player Paul Wallace along with fellow rugby legends. The cycle will take place along the Wild Atlantic Way, starting in Sneem Co Kerry and finishing in Galway City. All proceeds raised from the event will be donated to CROSS.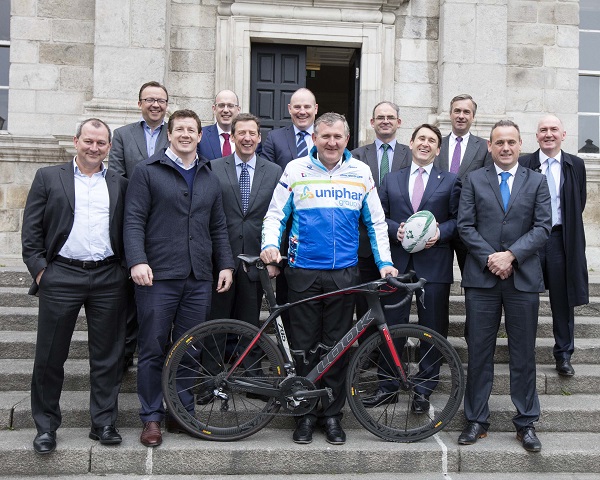 Ger Rabbette Uniphar Group CEO said "After the success of the 2016 CROSS Atlantic Cycle, Uniphar are delighted to be title sponsor for the 2017 event. The work and research that goes on at the Trinity Translational Medicine Institute (TTMI) is so important to the development of new treatments for a range of cancers."
Over 300 cyclists will participate in the five-stage event in September and cyclists can join the CROSS Atlantic Cycle for any of the one-day stages or cycle the full tour.
For further information please visit www.crossatlanticcycle.com for more information about the event, or to register for the whole tour or a stage.